The Hikes
Stawamus Chief
At the top of our list and considered to be one of BC's most popular hikes is the Stawamus Chief, commonly referred to as "The Chief". Just outside of the city of Squamish sits this intermediate hike with breathtaking views. It sits at 700 meters in elevation at its highest peak, and takes on average 6 hours to complete a single peak.
For those who want to take it easy, they can choose to do a single peak. But for those who are itching for something more challenging, they can choose to do 2 or all 3 peaks by starting at the farthest one, and working their way back to the first. We must warn you however, it can get busy due to its popularity.
While the hike itself is only 6.1km long, it is a steep incline. The initial portion is essentially a stair master, climbing a steep set of stairs. Once you get past that portion however, it becomes relatively flatter. With sections that have ladders or chains to hoist yourself upwards, this is a fun and challenging hike for those hiking enthusiasts. With its rocky and uneven terrain, it makes the trek up a fun one, however the climb down is considered to be one of the most difficult parts.
The final view that you see is a panoramic shot of Howe sound and Squamish. While at the top you get lots of space to sit and enjoy the view while snacking or taking a break. You'll also make a few friends as there are many chipmunks up there who love to take a peek at what you're munching on.
If you're interested in checking it out you can find out more about The Chief at https://www.vancouvertrails.com/trails/stawamus-chief/.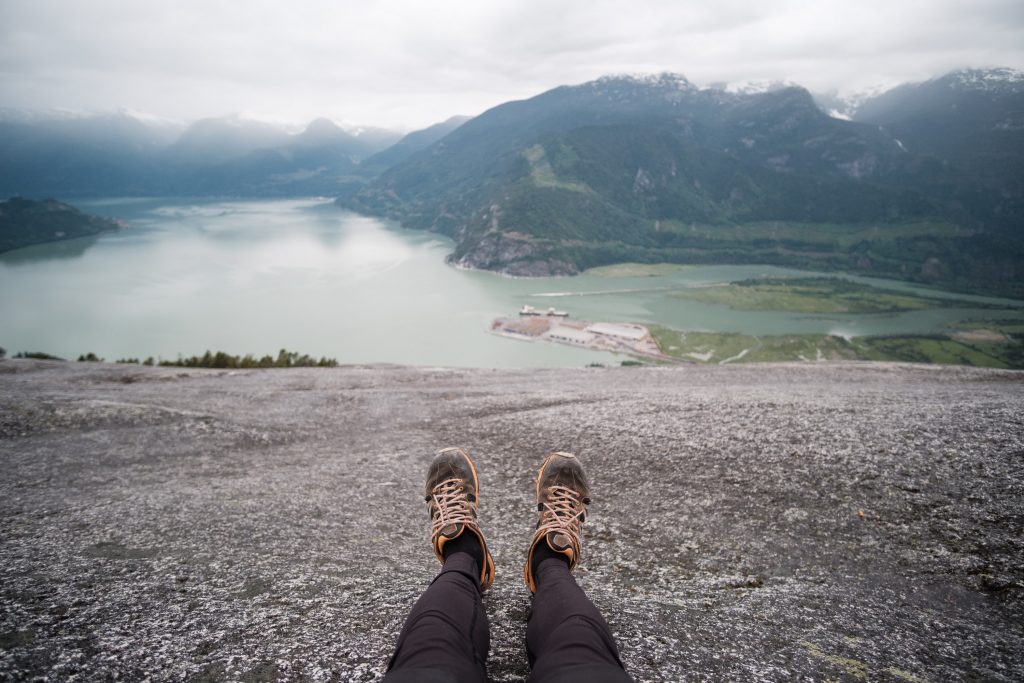 Garibaldi Lake
Next on our list, we have Garibaldi Lake, usually just called "Garibaldi". This intermediate hike is in between the cities of Squamish and Pemberton with a gorgeous view of some of the bluest glacier water that you will have seen. It sits at 820 meters in elevation, and takes on average 7 hours to complete.
With a distance of 18km, it is considered a relatively flatter hike to do. While it is still an incline up and lots of turns and switchbacks along the trail, the more even terrain makes it an easier journey back down. The scenery you see along the way wouldn't be considered too great, as you are within the trees for a majority of the journey, but there are sections where you break past the trees and other lakes along the way. It almost feels as if it's an inclined trail walk all the way up, but the view you get at the end is what makes this hike a top hike in BC.
The final view once you reach the top is beautiful. With a water flow one way, and the snow-capped mountains in the background the other, you're sure to want to stay up there as long as you can to take it all in. You're surrounded by crystal-clear blue water for a majority of the area up there, with the mountains and trees reflecting off of it. The best part of it is you can swim in it! Fair warning, the water is ice cold due to is being glacier water, but is something we recommend trying as it will make for a very memorable experience.
If you're interested in checking it out you can find out more about Garibaldi at https://www.vancouvertrails.com/trails/garibaldi-lake/.
Conclusion
This is just our list. There are many more in BC that could have easily overtaken these, and we recommend that you guys go out there and give them a try! Go out of your comfort zone and try something challenging. Besides, challenging is what makes it fun right?